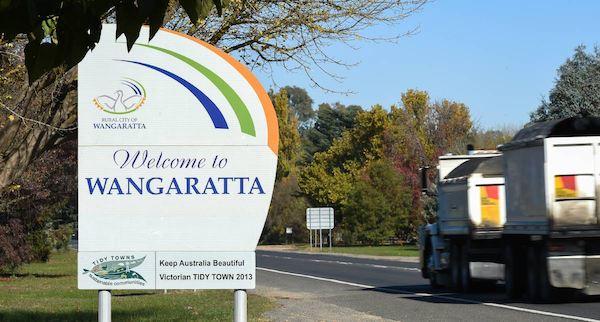 Improving Wangaratta's mental health
Hearten Up's founder, Joel Clapham, grew up in Wangaratta, north-east Victoria, in the 1990s and considers it his hometown.
In 1998, Joel lost his father, Ade, to suicide, and the town was rocked by the suicide deaths of two high school students.
In the years since, Wangaratta has continued to face the higher prevalence of mental ill-health and suicide that all regional towns do. 
Driven by a deep desire to do something about this, Joel established the Hearten Up Wangaratta community program in late 2019. 
In 2020, a year unlike any of us had experienced before, we were able to offer free mental health first aid training to the Wangaratta and Northeast Victoria community.
Delivered online through a combination of self-paced eLearning, and group workshops over Zoom, Hearten Up Wangaratta delivered this training to 79 people at no cost to them, thanks to our incredible partner on this project, The Grit and Resilience Program.
In 2021, we're again offering this training to the community – at no cost – and are very excited to be able to do this in person over a two-day workshop.
See below for more details and to register.
Project Partner: The Grit and Resilience Program
We are absolutely rapt to continue our partnership with The Grit and Resilience Program, who are providing the logistical and event support for this training. 
The Grit and Resilience Program see this program as an opportunity for us to build strength, knowledge and connection with each other, as we make our community even better together.
Delivering this for free for you was always our plan and promise, and we're incredibly grateful to The Grit and Resilience Program for believing in and supporting this work for the community.
MENTAL HEALTH FIRST AID
Learn about mental illness, how it impacts the community & workplace, and become accredited in using a practical, evidence-based action plan. 
Mental Health First Aid is an evidence-based course developed in Australia 20 years ago, and now in almost 30 countries around the world.
The course was the first of its kind and just like physical first aid, provides people with the knowledge and skills to provide first-level support and guidance until the person is connected with professional services.
You will learn how to assist someone who may be experiencing a mental health problem, or mental health crisis, until appropriate professional help is received or the crisis resolves, using a practical, evidence-based action plan.
Mental Health First Aid is based on guidelines developed through the expert consensus of people with lived experience of mental health problems and professionals.
Mental health problems covered:
Depression
Anxiety problems
Psychosis
Substance use problems.
Mental health crises covered: 
Suicidal thoughts and behaviours
Panic attacks
Traumatic events
Severe psychotic states
Severe effects from alcohol or other drug use
Aggressive behaviours.
I work in a male dominated industry, my training could be helpful there where there is a lot of stigma against men and depression.
The course was delivered and handled respectfully and Joel has an enormous amount of passion that really made the experience easy.
It gave me so much more confidence in approaching friends, family and work colleagues in checking in on them.
I completed this training and immediately felt empowered to confidently work with people in need of help in tough mental health times.
The facilitator Joel was amazing. He has a wonderful ability to draw all the participants into activities that opened the training into a different lens and helped us be part of the training rather than just a spectator.
I have already used these skills and they made me feel useful. The people that I speak to feel more comfortable when they know that you have had training and they can discuss issues that perhaps they would not normally bring up.
Upcoming training
The 2021 free community training in mental health first aid has closed for registrations.
If you'd like to register your interest for upcoming training for community members, fill in the form below and we'll let you know when we'll next be delivering it.